Dental Implants
Our procedure typically uses titanium as a replacement for your tooth root. Your dental implant will function like a natural tooth as it adapts to your jawbone.
A dental implant is a long-lasting tooth replacement procedure. The attached dental crown combines with your dental implant to form a natural looking solution for your missing tooth or teeth.
Your dental implant is strong and stable. It functions independent of surrounding teeth unlike a dental bridge. An implant can also be used to stabilize your denture.
Consult with us about replacing and supporting your teeth with a dental implant.
Examples
Before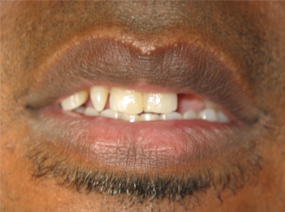 After