Snoring & Sleep Apnea Treatment
Do you want to stop snoring, sleep better and live longer?
Sleep Screenings & Consultation
Briarfield Dental Care offers free sleep screenings and consultations for anyone interested in learning more about snoring or Obstructive Sleep Apnea (OSA).
If you have previously had a sleep study, then we will provide a consultation to determine if you are a candidate for dental sleep therapy. If you are a snorer, wake up gasping for air, have excessive daytime sleepiness, or other signs or symptoms of OSA but have not seen a medical professional for diagnosis, then Dr. Stuckey can help.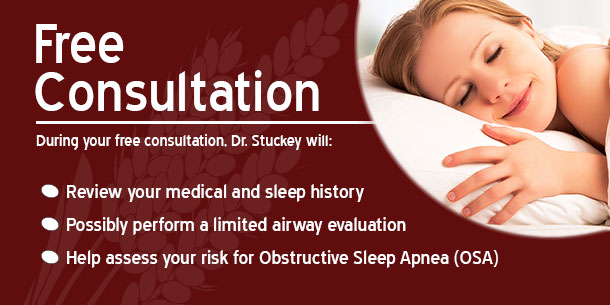 Prior to your visit you will be asked to complete several questionnaires, including a sleep and medical history (may be completed online). If Dr. Stuckey feels that you qualify for further testing after your visit, arrangements will be made for you to take a portable home sleep test or have a sleep test performed at a certified sleep lab.
The portable home sleep recording device is a state of the art piece of equipment that you will wear at home for one night while sleeping. The home sleep recorder is a level-3 FDA approved device that is approved by the American Academy of Sleep Medicine (AASM) for the diagnosis of OSA and sleep disordered breathing. The recorder gives valuable information about breathing, snoring, blood oxygen saturation and sleep apnea events.
After Dr. Stuckey has reviewed the results of your home sleep test or lab sleep test, an appointment will be made to discuss the results. During this appointment, we will discuss whether you are at risk for Obstructive Sleep Apnea (OSA). Dr. Stuckey will review the results of your home sleep study with a board-certified sleep physician to decide whether treatment is necessary. If further medical consultation is necessary because of advanced or serious medical problems, Dr. Stuckey will help make the proper referral to a local sleep physician. Once a diagnosis is made from the board-certified sleep physician, Dr. Stuckey and the sleep physician will help you decide the best method of treatment based on your test results.
Use the form at the top of the page to schedule a consultation with Dr. Stuckey to improve your breathing risks and sleep with snoring and sleep apnea treatment.
Testimonials
"My family has been coming to Briarfield Dental for around 2 years. The office staff is very friendly and are will to listen and help in whatever way they can. However for me Dr Stuckey has improved my over health in a way I thought could ever happen. I suffer from sleep apnea and I went through all the sleep studies and 2 different types Cpap machines. The devices did not work for me at all. Dr. Stuckey over the 2 years was talking to me on how certain dental appliances can provide relief or reduce sleep apnea issues. During this time I was very skeptical the devices would work and kept finding excuses not to try. I final decided to have Dr Stuckey treat me a few months ago and I am extremely happy as I am sleeping much much better with almost no snoring. The biggest benift is my wife can now sleep too and does not worry about me during the night. If anyone is still having sleep apnea issues even with cpap machines I would highly recommend coming in a seeing Dr Stuckey."
---
"I have been using the Moses Snore Appliance now for several months and it works. It is very comfortable to the point I don't know it's there!"
---
"The sleep apnea study was an easy and informative process. The new mouth piece has made a big difference. Snoring has almost completely stopped and I feel I get more restful sleep. I made the mistake of forgetting to wear it one night, and the snoring came back. I am very happy with the results and would recommend for anyone that feels they may have a problem."
---
"I always hated my c-pap machine and my dentist told me of this mouth piece I could wear so I ordered it. Dr. Stuckey took extra time to explain exactly how it worked and his staff was very helpful in assisting me. I now sleep well and feel refreshed every morning. Thank you Dr. Stuckey and Staff!"
---
"Briarfield Dental Care provides excellent dental care, and more. Recently, Dr. Stuckey recommended a snore guard appliance (at my caring wife's desperate plea) in an effort to maintain peace at home and in the neighborhood.
As in most cases, the patient "doesn't snore", and since I have been using the snore guard I really don't have any sleeping issues. The appliance holds my mandible in a position that allows for normal unobstructed breathing. The results for us have been amazing. This simple appliance is comfortable, and easy to use while sleeping. I honestly don't notice I am wearing an appliance. My snoring has since stopped, and I wake in the morning rested and ready to go!
If you have any snoring issues, this is one simple solution that I would highly recommend."
Contact Us Today
419.482.1438